Stone Tower Trail Run Challenge X
Sunday, October 1, 2017
15k / 5k / 1.5 mile walk
---
Lynn Woods Cross Country - AB MAC TIMING - NORTHFACE
---
Where
Lynn Woods, Lynnfield St. Entrance, Lynn, MA
9am - 15K start -- course map
9:15am - 5K start & 1.5 mile walk to Stone Tower -- course map
Registration
The cost is $25 and includes an awesome "Stone Tower Trail Race" tech-shirt, refreshments, prizes, & awards. Only pre-entries are guaranteed a shirt! The cost on race day remains $25 as tech-shirts may not be available.
About the Stone Tower
Set on the highest point in Lynn, Stone Tower is a 48 ft. tall field stone tower on the top of Burrill Hill. This rustic field stone tower commands an impressive view of Lynn's waterfront, Boston and beyond.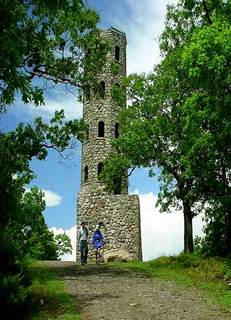 Thanks to generous contributions including from this race, the Stone Tower has been restored and can once again be visited. We will contribute to the upkeep of the Lynn Woods Reservation through the wonderful organization; Friends of Lynn Woods (FLW).
Seasoned trail runners raved @ the challenging 15 k course which tours the heights and under-trails in a moderately grueling fashion! You will need to be fit to take on this tour as you run along the fire roads and single path trails. You will be ascending rocky and hilly terrain past reservoirs, rose gardens, and scenic vistas. This 9.3 run is not to be taken lightly!

The 5k is comparatively less difficult but does ascend to Burrill Hill and the Stone Tower in the last mile. It is good hard clean fun!

Walkers can visit the Stone Tower up the main fire road which is roughly a 1.5 mile roundtrip.
Thank you to everyone contributing their time and resources to this effort! Special thanks to Joe Abelon, Bill Mullen, Dave Jefska, and Aaron Toleos.
Contact
Contact Liam at wrbliam@verizon.net or 978-762-3994.
---