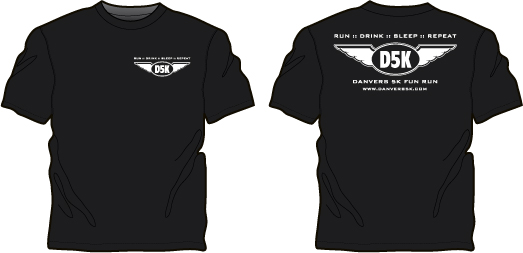 So here's the deal, we are going to do another run of D5K shirts so you won't have to run topless anymore: unless of course you want to, at that point I would suggest getting yourself a D5K tattoo. At any rate. The shirts are going to be $20, and we are going to do pre-orders for them. So if you want one fill out the form and kick down the cake in a timely fashion. We have to reach a certain number before we can get the shirts printed, so the quicker you get your order in the quicker the shirts get made.
We have opted to go with black shirts with white lettering for both the men's and women's shirts. The women's shirts will be a women's cut, and the men's will be of…well, a men's cut I guess.
The shirts will be made of some kind of tech shirt material, working on nailing that down.
Any questions, just let me know.
thanks, adam.
click to download PDF order form.